Finally after all this time we bought a tractor. A BRAND NEW TRACTOR!! First thing new we have ever bought as a family for the family that matters and will last a life time. Taking over the little old homestead this is gonna make dreams come true. The sky is the limit now. Although getting the little farm in working condition is going to take a while this tractor will help do everything we could possibly imagine.
We picked the Mahindra 4wd 4025. This is going to be an awesome tractor. It isn't to big and definitely not to small. With the utility tractor capabilities to pick up a full size round bale on the front and back at the same time and still small enough to maneuver like a big compact we can do anything. It has a 41hp motor, 31hp pto, loader lift of 2,866lbs, 3 point lift of 3,525lbs, and our unit with loader, and rear tires filled weighs approx. 7,000lbs. Over time we will put this unit to the test. Wish us luck!
To view the specs and visit the Mahindra site click here.
Stay tuned for updates, pictures, and reviews on this unit.
All these pictures was taken before it left the dealer.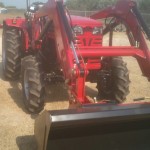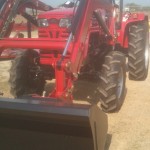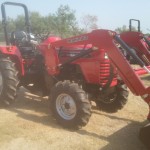 Here is a final picture with the possible future owner sitting on it giving it a thumbs up!