Today was great feeding the baby chicks and baby guinea keets. They are getting so big, active, and alert. They are starting to eat out of our hands. Here in these pics they are approx. a month old. You can see all the breeds we are raising here – Pearl White Leghorn, Red Stars, Americana/Arcuna, and Jumbo Gray Pearl Guineas.
Its feeding time. You can see some birds on the roost in the back ground.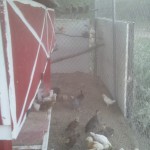 Another picture of these active birds.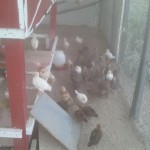 You can see here are two youngest children helping us. Notice the guineas on the roost just as calm as can be while we feed and water them.