We bought this shredder last year from a family member and it is a great unit. We only gave half the cost of a new one. Also this is a heavy duty unit with 1/4″ steel on top and channel iron around the sides. When owning a few acres shredding bush hogging or whatever you may call it is on the chore list a few times a year and we all need to do it safely.
When operating any equipment safety is always most important. Well when using this shredder last year stuff was flying out from the back and the front of the unit almost hitting us while driving. If we are dodging flying derbies instead of operating our equipment things could go bad in a hurry. We decided to do something about it, but at minimal cost with the idea of function over looks.
We had some old semi tire chains laying around for chaining up during the snow and ice season that was giving to us. What better way to reuse them. So we made our own chain guard. Not pretty, but functional. Remember function over looks. We took these chains and cut into what we believed was the correct length and welded them in place. Soon we will see how well they work.
Back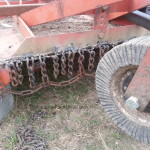 Front