Pallet Forks! Never woulda thought these things would be so useful. These have probably gotten more use than anything else when it comes to using the tractor. We got an Awesome deal on a set of 42″ pallet forks with hay spear option at palletforks.com. We called them told them what we wanted and in less than a week we had our pallet forks with hay spear option. Every time we turn around we use them and come up with new ideas and ways to use them.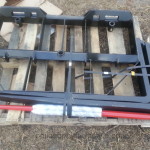 This is how our new 42″ pallet forks with hay spear option from palletforks.com. Strapped securely to pallet.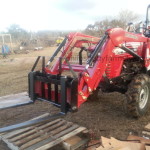 Lookin Good and ready to get all scratched up.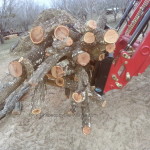 Gettin the mesquite ready to be seasoned for the next smokin bbq.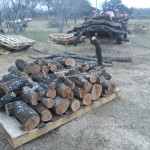 Comin in with another load to be cut and stacked. Now we can just split it at our convenience
.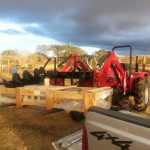 Unloading our new post hole digger/auger.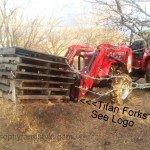 Movin around some pallets. Notice Titan forks logo from palletforks.com.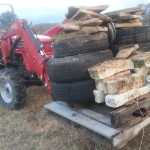 Just look how organized and quickly we can now move around all our junk….treasures, stuff, equipment, etc.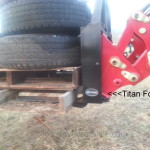 Theres the logo again.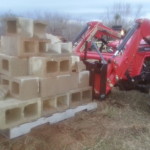 Moving some big bricks.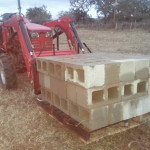 More bricks. These just bout maxed out the lift capacity on the tractor, but the forks didnt even notice as they have a 4,000lb capacity.