We hauled in about 11 yards of compost in 2 different trips for just over 5yds per trip. We figured about 1 ton per yard which was just over 10,000lbs each trip. Our goose neck trailer can gross 14,000lbs and it weighs around 3,000lbs itself so we was close to max. Not to mention the towing capacity on the pick up is around 13-14,000lbs. The compost should give our garden area a great kick start. Great to have a goose neck and F250. We used some free pallets that had plywood on them for side boards. They were nailed to the floor and each other. Next we put down a cattle/livestock panel on the floor of the trailer with a wooden pallet on top of it with a chain ran thru both to drag out the compost with our tractor. It ended up unloading about half the load. Then we just moved the trailer around to unload the rest by hand.
Next we got the garden plowed with our 3 bottom plow. Our 4wd 4025 Mahindra is a beast! I did get a bucket full of dirt on the front end loader for traction on the front axle. Now we need to buy or rent a disk before spring as to smooth out the garden. Our garden is approx. 40ft x 80ft. We plan on trying to grow a wide variety of veggies and a bit of fruit just to see what we can do! After all gardening and being self sustaining is supposed to be fun right?
Here is cattle/livestock panel with chain thru it. Didn't get a pick of the wooden pallet on it thou.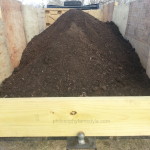 Here is what a bit over 5yds of compost on a 20ft goose neck trailer with 4ft side boards looks like.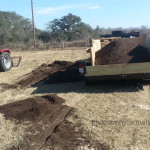 Here is the 2nd load of compost.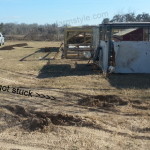 Almost got stuck! Thank God for 4wd F250s. Well we could of pulled it out with the tractor.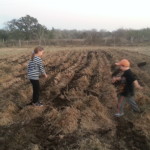 Finally all the compost is plowed under and our 2 youngest inspectors are here to make sure it was done right.