We started our Pearl White Leghorns out from online purchase we made at Murray McMurray Hatchery. These birds are great for laying white eggs, slow cookin after they have slowed on their egg production, and at about 8-10 weeks are good for frying also.
Here is arrival. Just as cute as all get out. Very active and alert.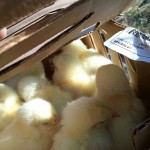 Here is a picture of one of our Pearl White Leghorn roosters.